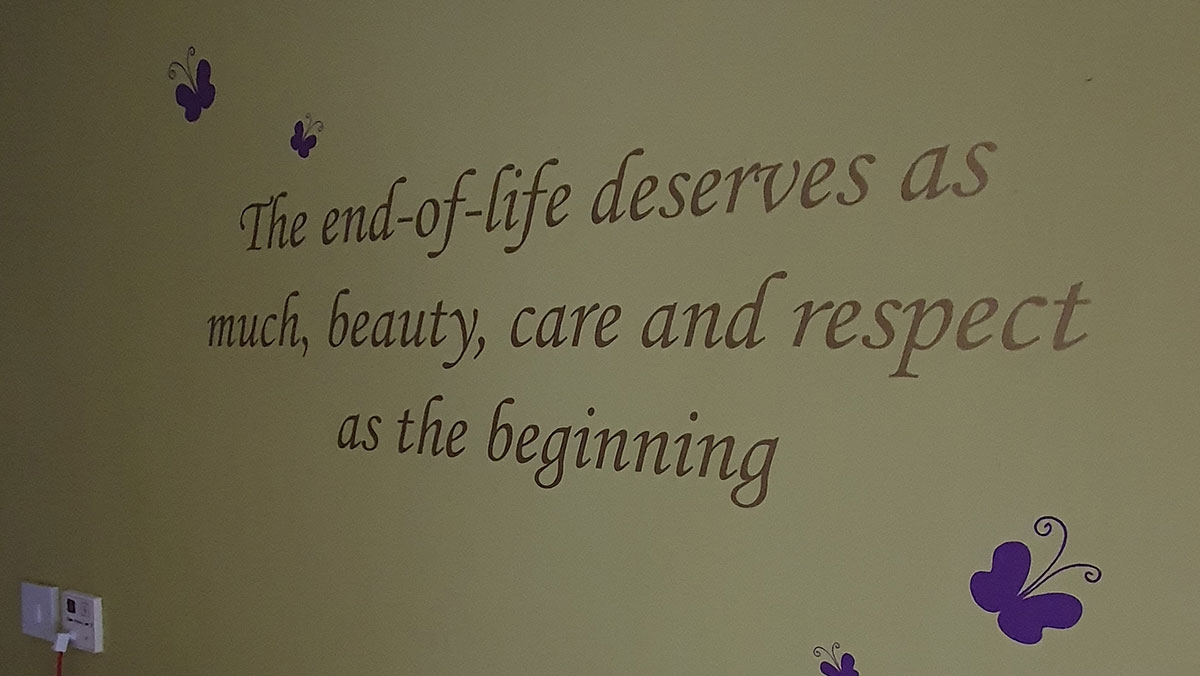 Palliative Care Accommodation
offering Enhanced End of Life Care
Palliative Care provides pain management, comfort and person-centred support for the end-stage of a life-limiting illness.
Our specially trained teams provide palliative care focussed on a resident's wishes – delivered with kindness, dignity and respect.
By working closely with the resident, their loved ones and key healthcare professionals, we ensure that communication, compassion, comfort, choice and control of symptoms are at the forefront of the care which we provide.
Our Butterfly Room offers a bright space to people requiring specialised end of life care who live within the Doon Valley area. Our Enhanced End of Life facility offers a facility for when a person is no longer able to be supported at home (for instance, due to carer fatigue), or the person has been admitted to hospital but would prefer his/her place of care to be closer to home, family and friends.
In a close working partnership with District Nursing, GPs, and NHS Specialist Palliative Care Community Nurses, we will respond to provide an inclusive form of palliative care in a comfortable, relaxed setting. Our holistic approach will include pain and symptom management and nursing care in a tastefully decorated en-suite bedroom facility, as well as accommodating a person's spiritual, emotional and/or social support needs.
Our Enhanced End of Life Care Service has been developed with support from Dalmellington's GPs, Specialist Palliative Care Nursing Teams at The Ayrshire Hospice and the NHS local District Nursing Teams. This partnership is providing support, assistance and additional knowledge and skills development for our staff team.
Palliative care is free to the service user and is funded through the Scottish Government's Integrated Care Fund. The funding was awarded by East Ayrshire Health & Social Care Partnership. This initiative will enable local people in the advanced stage of their illness to be cared for twenty four hours a day in closer proximity to their family, friends and within the local community.
The service can be offered to people who would prefer this choice and where their life expectancy is limited. However, should the person's symptoms stabilise, it is anticipated that a return to home will be a positive outcome, allowing the service to become available for another individual and his/her circle of friends and family.
Please contact us if you require any information.